BLUE MOON, skippered by Thalita, took part in ARC 2022 – Atlantic Rally for Cruisers, to cross the Atlantic Ocean from Las Palmas in Canaries to St Lucia in the Caribbean. To record the daily life on the crossing, it was decited to write a blog post daily – sometimes it was a group effort, sometimes crew members wrote about the day individually. Katleen, Liesbeth, Margo, Mathias, Sergio, Wayne and Thalita captured the experience in their own words and style, sending it daily to the ARC Log and Second Star Sailing shore crew via satellite connection.
Day 1 – November 20, 2022
Early prep for the upcoming racing start. Boat is well stuffed with fresh food, loads of salads, sweet candies, chocolates, pasta, pasta, pasta, cheeses, and fresh meat for the first days. Tanks are filled up with prescious water. Gas bottles changed, fuel tank refilled. Sails repaired, new toilet pumps (thank you Ettore!) and we got a second life raft on the Blue moon, which is getting a hitchhike to Antigua. 
During team briefing our captain kept us up to date with the current weather conditions: Wind 20-25 knots, swell is 11 seconds and 2 to 3 meter waves. We expect similar conditions for the next days! Everyone was quite excited. We made the last phonecalls to the homefront, and happy to leave the port and start this beautiful adventure!
Sailing out of the port was an emotional moment, to see all the people waving us goodbye and wishing us a save crossing. We made it out savely, unlike other boats we saw who already collided right after exiting their parking spot! 
It was the first time we saw the full dimension of the race. So many sailing boats, racing ships, different flags and many other following dingies all crossing each other and getting ready for the starting line. 
Mathias in the front, Thalita at the helm, Liesbeth on tactics, Wayne on the piano, Sergio and Katleen on the Gip and Margo making sure everyhting is put on film. Adrenaline got higher as soon as we heared the sign of 10, 5 and 1 minute. We made some taks to position the boat well and when the final 10 seconds got blasted out of the radio, the Blue moon set sail (on time!) towards the Caribbean.Teams were shouting and we saw happy faces all around. We had to make sure to navigate smartly to avoid collision. 
The first hours after we were all getting used to the conditions, to our humble boat doing so well, and our stomachs getting shaked up.Until now one crew member already got to feed the fish ;)We are taking turns at the helm to get a feel of how this magnificent lady is surfing the waves. Soon we will start dinner prep: Pumpkin soup with tomatoe mozarella salad. Let's see if that was a smart move;).Shifts will start at 6PM and we'll take turns every 2 hours in the night shifts and 3 hours during day shifts.We'll report back tomorrow how well we got through the first night. Exciting times ahead!
Ps: Dear Giordana and Ettore , you left Las Palmas this morning and Bluemoon yesterday,it was emotional saying goodbye to you both.Thanks for bringing Bluemoon safely to Las Palmas and you helped us so much to get her ready. We sail Bluemoon for you …Thank you for all…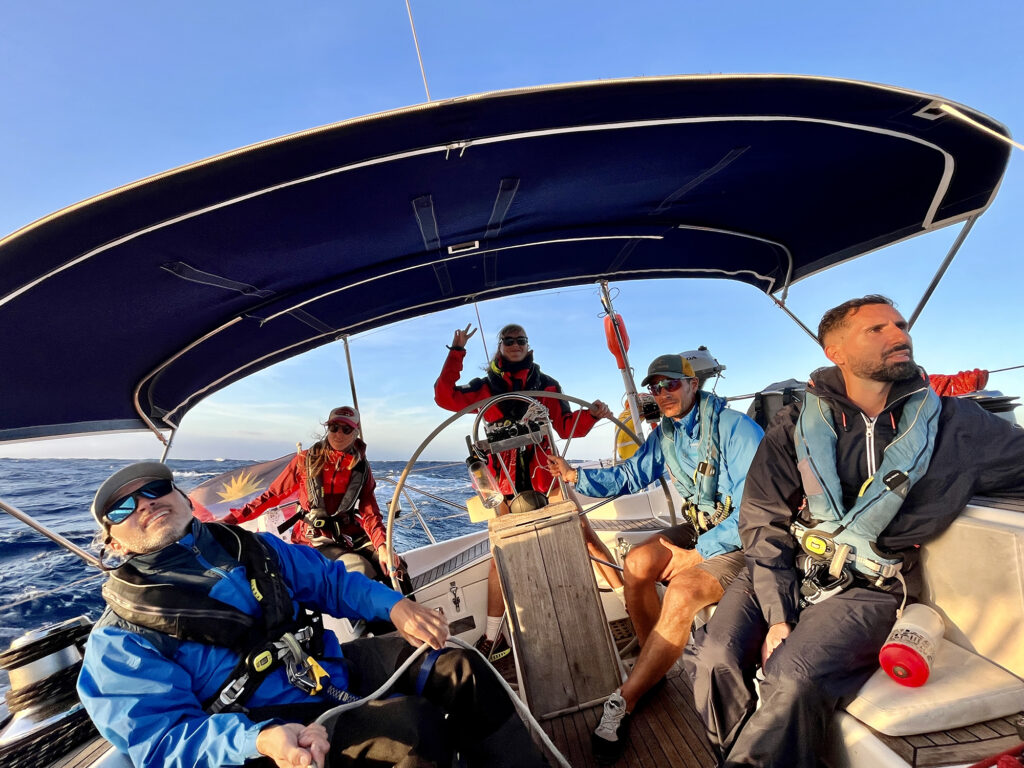 Day 2 – November 21, 2022
On a beautiful evening after the crew dinner at 1800 Margo got the ipad in her salty fingers to share the lates news from Blue Moon!
After an emotional and exciting start of the ARC, we tired to settle into our new routine on board. Night watches went smoothly, well, as smooth as it could in 30 knot gusts and big waves catching up with Blue Moon`s hull. Surfing the waves each one of us tried to reach for a personal speed record – a fun and common activity on any sailboat. Seasickness also found its way to some of our crew – another common activity on any sailboat… First night hours we put our VHF radio knowledge in use, as nearby boats tried to communicate with one another to avoid collisions in a gusty and rough seas. But soon enough the fleet spread wide and we found ourselves in company of shining nature – stars in the sky and "stars" in the water – the fluorescent plankton around the boat. The moonless sky asked for a lot of concentration to stay on course, that turned our wet weather clothing into a real sauna inside – we are preparing for the Caribbean after all!
Today we are slowly getting into the mood and the groove on board – with morning dance party, cooking nice meals and finding a comfortable place for ourselves. It is fascinating, how 7 people can find a physical and mental place on a 13m sailboat – our skipper Thalita in some hi-tech comfy special seat at the helm, Mathias making friends with the oven in the galley, Sergio re-organizing the pantry and food storage, Liesbeth is studying the celestial navigation book, Wayne all cosy snuggled in the bunk with a movie, meanwhile Margo and Katleen planning some exciting recipes with the fresh food that needs to be put in our bellies, while it`s still fresh!
Blue Moon sails nicely through the bright blue waters of the Atlantic and is so easy in a hands of a good helmsman-helmwoman, that we are desperately trying to become, watch after watch.
Salty hugs, Margo
Day 3 – November 22, 2022
Confused seas last night made helming downwind a challenge, with a flapping jib irritating the skipper. We did our best to keep Blue Moon on course and in still in contention. Had company for a time with two vessels playing chicken behind us. Some radio chatter as they figured out how not to collide in the open Atlantic.
Seas calmed a little in the morning and the decision was made to pole out the jib, but first we had to clear a jammed furling line. Mathias' cap went for a swim while wrestling at the bow, but no "man overboard" call this time. Eventually the line was free and the pole was up, only to come straight back down again so we could untangle the spaghetti of lines. Finally the lines were sorted, the pole was up, the jib unfurled and un-flapping, and we could sail our desired course.
The lure went in for a bath, but no fish dinner as yet. Some dolphins came to check us out, or maybe just laugh at our fishing skills. Either way, they didn't hang around.
They just broke out the chocolate, so this writer is signing off.
Day 4 – November 23, 2022
With lighter winds predicted for the day, we adjusted the sails early in the morning: full mainsail up and the jib pole out for smooth sailing. Then, we let the fishing line out in the hopes of catching a tuna (no luck, but hopefully one of these days), recharged the batteries, and ran the water maker, to name a few daily activities. Margo prepared us a big breakfast and special guacamole lunch snack and Sergio cooked mushroom and sausage risotto. A well fed and happy crew for the day!
Day 5 – November 24, 2022
It's already day 5 people! We're very slowly getting in our watch system groove. Though the night shifts are still not a given. The rockman sisters love their sleep But we always make it on time. I must say the falling stars, soft warm sea breeze and the moderate sea state were a gift to wake up to last night. When it was the sisters' turn again this morning at 9, our skipper Thalita and Mathias had enjoyed their 6 o clock morning watch in all peace. Made themselves eggs and bacon, turned the fruit, cleaned the heads and were waiting for us to get up to finally hoist the kite! Though before we did, we had to perform a planned gybe. And that is where the first deck excitement started for today.
The crew forgot to open the clutch of the jammer and the main preventer snapped. Luckily the rope was long enough so we could pull it through again. After Mathias took out the boat's splicing gear and repaired most of the ropes that needed splicing. Quite the detailed work.
The kite went up without any problems and finally the Blue Moon could show off her bright yellow diamond, what a beauty! We all switched turns to learn how to helm the kite, with Thalita and Liesbeth sharing their knowledge how to surf the waves with soft small turns on the helm. After the rockman sisters made oatmeal for breakfast for the crew they dug into the kitchen fridge to clean up a great mess – nobody could find anything in there -and started prepping a fresh greek salad Fatto Bene which tasted delicious in this warm tropical weather. So with bellies well fed, finally the ladies of the Blue Moon decided to get that long awaited deck shower! We each got into our swimming gear, took out the bucket from the cockpit locker and gave ourselves a fresh salt water wash. Ahh heaven.
Heaven did not last long though. All of a sudden, SNAP, the kite dropped into the water: All hands on deck! The whole crew did their best to get the kite as soon as possible back on deck where we could make out the damage: The dyneema halyard schackle broke at the top of the mast. This meant the jib had to be unfurled again and our speed dropped with 3 knots unfortunately. But this means someone has to go up the mast tomorrow to repair the halyard, and I know already someone who would be very excited to do so.
If that was not enough casino already, we finally caught a fish! Probably a tuna as our fishing line had a special bate for tuna. Sergio was the first one to see it and was overly excited to pull in the string with his bare hands. Though he quickly figured out that was not the smartest move and had to grab his gloves from his cabin. When he came back, the fish was gone… No tuna for us today.
After all this deck excitement, Mathias cooked us a delicious stew with meatballs, a true balm for the soul. Now Lies is sailing the Blue Moon right into the sunset and the whole crew is easing into the night, preparing themselves for yet another night full of falling stars.
Day 6 – November 25, 2022
The day started early at 6am with a mesmerizing soulrise . My sister cooked up eggs with bacon while i was helming the boat in 20 knots of gusty wind. As soon as the next watch woke up, we prepared for the gybe. With Wayne and Katleen on the bow the gybe went smoothly because we didn't even wake up our skipper . At the moment we wanted to take a long waited nap, the skipper called all hands on deck for Mathias to climb into the mast.
Suddenly Sergio yelled out 'we caught a fish!'. It was a beautiful Mahi Mahi with green yellow blue color. Sergio had a big smile on his face because the fine tuning of the fishing line and long waiting, finally paid off. When Mathias killed it, it turned blue.
Meanwhile Wayne went for a quick shower on deck.
After cleaning and storing the fish on deck on a rough sea, it was time for the next action: climbing the mast. To get Matthias up we got four people on the winch and used two lines, one was the halyard and the other the safety line. The skipper was trying to maneuver the boat into the waves to have it as balanced as possible. As an alpine guide, Matthias made this climbing task seem like a piece of cake. The halyard was attached again to the mast with a hard shackle .
After safely descending, we could finely hoist the gennaker. The hoist didn't go as planned and got twisted around. After the second hoist we could start my favorite part of the day.
The conditions were perfect and Blue moon was surfing into the waves. Everyone on board experienced this exciting steering.
The cooking team prepared our treasure of the day, in the oven with a beautiful salad and steamed potatoes made by Margo and Katleen.
While we all set outside in the cockpit enjoying our fish with sunset , we reminisced about yet another eventful day.
Day 7 – November 26, 2022
It all happend in one second…flying the kite -gennaker with backwind smoothly downwind 170degrees, then a burst "baamm"…the whole kite falls down in slowmotion on our portside… i feel it happening while im steering the helm…
Thalita bring us back to reality in no time…all hands on deck she says a bit louder and faster then her usual calm way to talk with us normally.
So we move very quickly to our port-side to get in the kite before it gets tangled under the boat.
We managed to get it safely back on deck even so in a bit twisted way…
What happened and why could he let go on top of our mast head?
There was a very strong dyneema soft buckle attached with a steel shackle and a block.
So this dyneema buckle let go …due to a strong continuous force with banging and a big huge kite pulling on it all the time…
Somehow we have to fix this very important piece on the top of the mast under full sail and speed in the middle of the Atlantic.
Thalita asked me to get up there and we discussed how we will fix it, specially in a safe way …
My equipment is a helmet and a climbing harness attached to two halyards (11mm semistatic rope ) from the top of the mast. They are back secured in the cockpit and pulled by two winches …and they helped me to climb the mast at the front side of it. I also have two spear steel shackles and a multitool with me to change and remove the broken buckle with a new steel shackle.
All hands on deck …everybody on there position.
Last check of my attachment with the ropes and off we go…
The boat is moving from one side to the other, from front the back.
I try to hold myself close to the mast while they help me to climb.
It is a swinging climb to hold myself close to the mast. As I get higher the cranking of the boat gets stronger and i feel how much i have to trust my crew-members and our skipper .
17m to climb and it gets harder and more shaky. I need to concentrate and my core muscles are already in full tension, im afraid to get seasick in no time with this banging from one side to the other. But i arrive the head of the mast safely in a swing from about 4-5 m.
What a wunderfull view from the top, over the Atlantic and the endless sea, down to the little sailing vessel Blue Moon and my crew members, its a crazy feeling between neverending horizon and bluewater allover. Never before have i had such an experience … feeling very little and vulnerable. Then a bang and a swing to right side and forward brings me back to the reality…. Im still on the top of the mast and have to finish my job as soon as possible…
Dont look down i say to myself and stay focused.
With a few movements i can change the shackle and attached the halyard to it.
Job done…ohh my core muscles start to tell me how much they have been used the last fifteen minutes…crazy..
My sign is clear to the winch men, only down down down…its hot up here, sweating in the helmet and my gear…sun is burning down and still swinging around like a pendulum…
Happy landing on deck of Blue Moon, feels like standing on safe earth again, but it's still a moving boat in the middle of the ocean…
Very thankful and happy to be with a safe crew and done a job like never before…
Soon later our kite is running again in full form and moving us forward with 7-9knots, jehaaa
Day 8 – November 27, 2022
Everybody knows – good fed crew = happy crew! Our passionate provisioning duo Katleen and Mathias did a great job back in Las Palmas – for 4 days they were chasing food all over the city, ordering deliveries, making sometimes difficult decisions on the way, and sometimes just going wild (in the candy isle).
Over the last week our main job was not to produce any fresh food waste. So far it is going great, the only fruit that doesn't enjoy sailing with us are lemons. Any ideas why? They are hanging out (both figuratively and literally) with oranges and clementines, but somehow don't like the family company…
We have enjoyed the best meals with the sunset and sunrise views, cooked in some rough conditions, had dishes and utensils flying around… and also some full cooked meals…
Our storage, shelves, fridge, lockers, nets are still full of food and drinks, so far it looks we could sail to the Caribbean twice!
Breakfast:
Muesly with coconut/greek yogurt and fresh fruit and nuts
Oatmeal on almond milk with peanut butter, walnuts, apples, cinnamon
Eggs and bacon
Bagels with cream cheese and bacon
Bagels with peanut butter and blueberry jelly
Oranges, apples, lemons, papaya, bananas, kiwi (finished kiwi)
Scrambled eggs and jam
Lunch:
Pumpkin soup with Sandwiches
Salad with tomatoes, onions, peppers, olives
Greek salad with Feta and bread
Guacamole with tortilla chips
Avocado on toast (finished avocados)
Grilled cheese Sandwiches
Coleslaw salad
Grilled bread with roasted walnuts and honey
Hummus chips, potato chips, crackers, salted peanuts, pistachios
Experimental banana bread (boat classic – to finish bananas)
Dinner:
Precooked lasagna
Chicken curry with rice
Stew with vegetables and meat balls
Risotto with mushrooms and sausage
Pasta with aubergine and zucchini in tomato sauce without sausage (sausage fell off the stove…)
Pasta with double Sicilian tomato sauce (first sauce fell off the stove…)
Catch of the week – mahi mahi with steamed potatoes and fresh tomato salad
And ofcourse some undisclosed night watch munchies
Labu apetīti, Margo